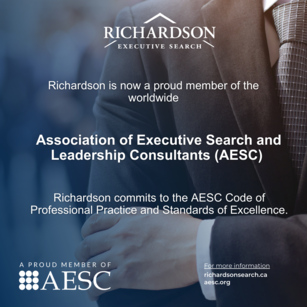 Richardson Executive Search joins the Prestigious AESC as a proud member
Aug. 18 2023
Edmonton, July 31st, 2023 - Richardson Executive Search, a leading executive search firm in Western Canada renowned for its exceptional executive search services, is delighted to announce its official membership in the Association of Executive Search and Leadership Consultants (AESC). This prestigious affiliation marks a significant milestone for Richardson Executive Search, solidifying its commitment to upholding the highest standards of excellence and professionalism within the executive search industry.
AESC is the global professional association representing the most respected and trusted executive search and leadership consulting firms worldwide. As a member of AESC, Richardson Executive Search gains access to a global network of reputable industry professionals, allowing the firm to strengthen its international reach and provide even greater value to its clients.
"We are thrilled to become a part of AESC and join hands with other industry leaders who share our passion for excellence in executive search," said Scott Stoppler, President and CEO of Richardson Executive Search. "This membership reinforces our dedication to maintaining the highest ethical and professional standards in all our endeavors. It also provides us with an invaluable platform to collaborate, share knowledge, and learn from the best in the business."
With a proven track record of successfully securing top-tier executives across diverse industries and geographies, Richardson Executive Search has earned a stellar reputation for its personalized approach and deep understanding of clients' unique requirements. As an AESC member firm, Richardson Executive Search will have access to AESC's resources, research, and industry insights, enabling the firm to further enhance its client-centric solutions and deliver exceptional results.
About Richardson Executive Search
Richardson Executive Search is a boutique executive search firm based in both Edmonton and Calgary, Alberta, while servicing clients across Canada, with a strong entrepreneurial spirit and a reputation for unwavering integrity since its inception in 2014. Specializing in finding, securing, and enhancing top-tier executives for businesses and organizations in Canada and the United States, Richardson offers customized searches to its Partners while maintaining a competitive edge. As part of the ECL Group of Companies, Richardson offers a comprehensive wrap-around suite of services to its partners, to meet every Integrated People Solutions needs they may have, enabling them to achieve their vision.
For media inquiries, please contact:
Marielle Maillot |  Marielle.Maillot@richardsonsearch.ca  | P: 780.944.1258